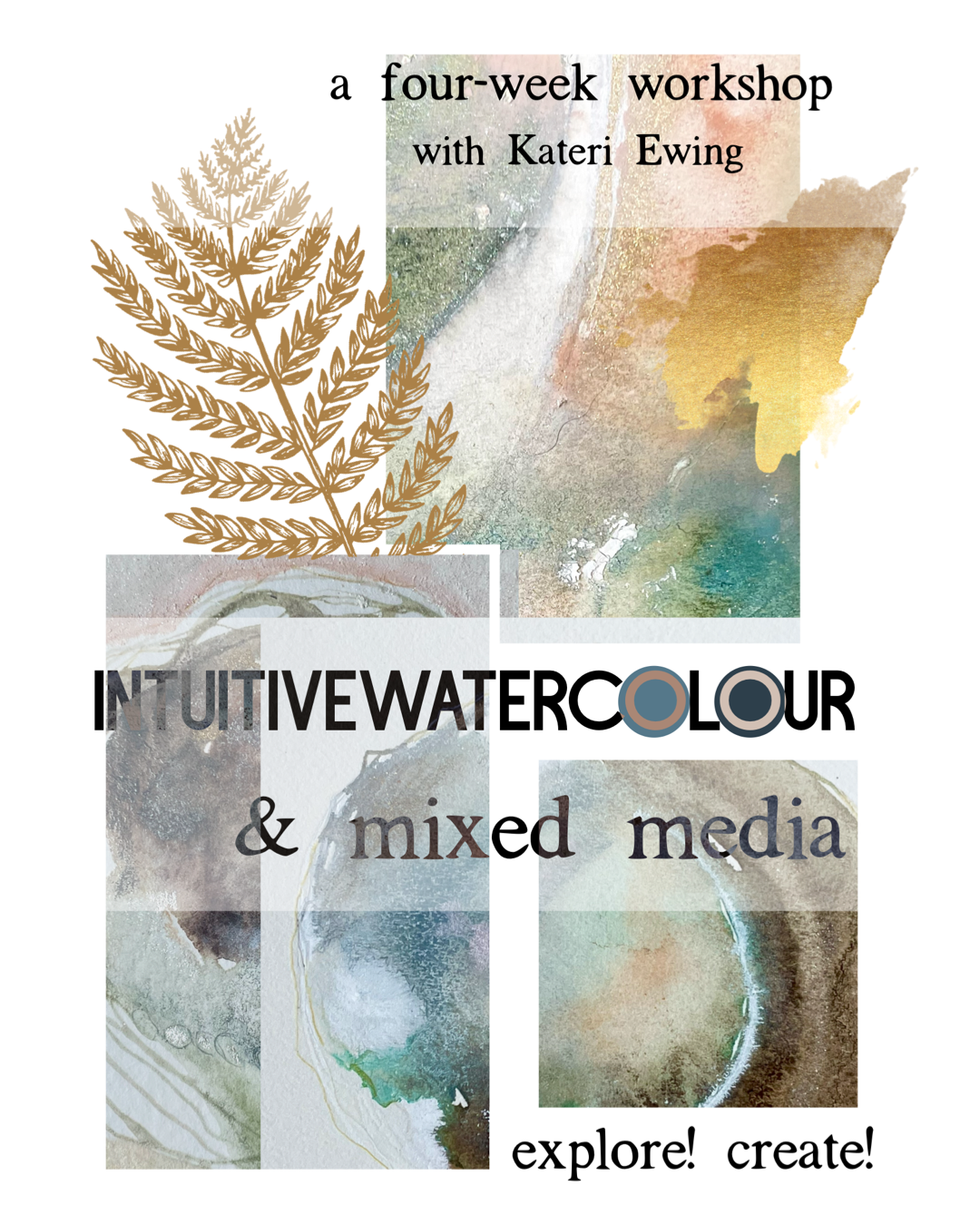 Intuitive Watercolour
& Mixed Media
During this four week, self-paced journey we will deep dive into the tools and materials, tips, tricks and techniques for creating gorgeous intuitive, process-based art. This is art from your spirit, from your inner voice and it is in reach of every single person that desires to do it. Come along with me and discover your own unique path to exquisite, authentic and expressive works of art.
​
What you will receive:
​
• Beautiful, in-depth video lessons that you can watch at your convenience. That is what self-paced means! These videos will cover the topics with in-depth explorations and creative, fun exercises to help you digest, learn and practice each lesson's material. The class is available to you at anytime and for the entire lifetime of the course. Many people have started the course from the beginning again, once they have completed it! You will glean new wonders for your work each time.


• Support for your questions, by me. I check the questions and comments on the classroom Monday through Friday and answer you within the classroom comments.
​
​
Course Syllabus:
 • Introductory Lesson: Everything you need to know before you begin!
 • Week One: An in depth exploration and demonstration of all the tool and materials I use for my own intuitive art practice. This is an incredibly important part of this process, and we will cover these materials at length, with many options. We will also explore my philosophy of exploration and of intuitive material selection.
 • Week Two: Watercolour exploration. The spirit of this medium and all that is has to offer us if we know how to unlock its secrets and potential. You will see several artworks being created in real time, with detailed commentary on the processes.
 • Week Three: Adding other elements. This week we add alllllll the tools and materials. What is safe to use? What isn't? And a trip to the art supply store to learn how to intuitively select materials that will help you create authentic and expressive art.
 • Week Four: Finding your own inner voice. The path to your own authentic, process-based art. SO much to explore here. So much to share with you. The most important part of this class. Lots of demonstrations and guidance, inspiration and practical advice for ways to develop your own voice and allow it to evolve as you evolve.
 • LIVE Zoom call will be the first Saturday of March, the 5th, at 2PM Eastern Time. If you must miss the call, it will be recorded and I will take time to address the questions sent in prior, if you know you will miss it. If you have previously purchased this course, you are always welcome at all future Zooms!
​
The lessons are available to watch whenever it is convenient for you! And there is a space to ask questions under each lesson. I check in every weekday morning.
​
The cost of this course is $65 USD. You will have access to the video lessons for the lifetime of the course. It is an unspoken contract that these videos are not to be shared with anyone else. Because this course is pre-recorded and available at anytime, there are no refunds once the course has started. Thank you for understanding.
​
You will receive a list of materials that will be helpful in the introductory lesson.
​
I have been creating the class over the course of many years and I am so excited to share it with you!
Any questions, please email me at

 [email protected].
The not-so-fine-print:
No refunds will be given after the publication of the course.
Access to the internet is required to participate in this course. It is best viewed on a computer, but can be accessed through a tablet or smartphone.
Access to the course is available for the lifetime of the course, at least until April 15, 2023. The course will remain open as long as it continues to sell and people are actively enrolled.
All technical issues need to be directed to Teachable.com. I have zero ability to assist with technical issues including signing in to access your account.
I have no access to your payment information. I simply rent this space from the Teachable platform.
Check your inbox to confirm your subscription